Life and Death on Mindfulness
The Master Class
Hosted on Zoom
EVERYONE WELCOME
This 9 month program delves into all of the most important ways we can use the practice of
mindfulness and meditation to live more freely, with less fear, anxiety, daily stress and suffering,
and with more meaning, connection, and light-hearted joy.
The unique component of this program is how it weaves practices on
illness, aging, death and the dying process throughout the teachings and practices.
Whether we would consciously say it or not, mortality is our biggest conundrum. 
We know we have limited time and are going to die, and yet we allow worry and excessive planning,
judgment, anxiety, busyness and consumption to literally consume our days. 
A hospice nurse who'd been working in the field for more than 25 years wrote that
when most of his patients received the news that they had a year or less to live, after the initial shock,
a lot of them experienced incredible freedom, and a lightness they'd never known before.
Why is that?
We'll explore this and so much more throughout the trajectory of this program. 
I'll also be sharing some ancient teachings and meditations that are used
directly for the purpose of bringing death closer into our hearts, not to be become afraid and morbid,
but to allow for the opposite – greater ease and joy.  Meditations on death, aging, illness and the dying process
can enliven a will and desire to live live live, in the only moments we are alive, which is right here and now.
Despite all our medical advances, the mortality rate has remained constant – one per person.
I'll have mine. 
You'll have yours.
There are few stronger calls to presence than this.
When we engage in teachings and practices that help make death, aging, illness and the dying process
less scary and anxiety provoking, it allows us
LIKE FEW THINGS CAN
to live more deeply in alignment with life and death, rather than running anxiously from it
and filling our lives with distraction.
But this program isn't just about death. 
It's also about
LIFE.
If you answer yes to any of the following questions,
the Life and Death on Mindfulness
Master Class
might be for you:
Do you want your meditations to be on a path
that progresses, creating changes and impact in your life
that you can see and feel?
Does your mind ruminate and perseverate on negativity and worry?
Does anxiety about life, and/ or death, feel like it's either
a part of your life or beginning to creep in?
Do you find benefit in meditation, but just can not seem
to meditate with the consistency that will make a difference?
Is the aging process making it harder for you to feel at peace?
Are you interested in developing your own mental clarity,
to impact your life and how you're living?
Would you like to be on a specific meditation course,
so that this time next year you can feel like
some of the things plaguing your life have been
attended to in a way that you literally feel
more peace in your life?
Life and Death on Mindfulness
The Master Class
This course is hosted on Zoom, with people joining from all over,
and will be hands on, minds on, nothing pre-recorded,
with a live teacher and group of fellow practitioners
who will be by your (virtual) side as you evolve your practice
within a format that allows discussion of any and all
questions, obstacles, and realizations.
In this course, you will learn and practice
mindfulness and meditation to help you to:
–Interrupt the endless and repetitive mental loops of negative thinking,
so that your mind becomes more calm, clear, and focused
–Leverage the lineage of mindfulness teachings on the mind
and how it functions, so as to stop fighting it,
learning instead how to work with it
–Learn specific mindfulness and meditative practices that are designed to
bring peace to our minds during an incredibly common time
to feel disturbed and disrupted – the middle of the night
–Learn how to incorporate illness, aging, the dying process, and death
into an ever deepening spiritual practice
–Learn the lineage of practices that bring death and the dying process
into the forefront of our meditation,
not to make us afraid and morbid, but so that
we can live more fully, and with less fear
-Learn how most, if not all, of our anxiety and fear stems from a
negation of certain aspects of life, and how, when we bring them
to the foreground in meditation,
we learn to live more deeply in alignment

-Understand your habits of being from a more objective standpoint,
so that this understanding can allow your practice to
come alive in a way you probably haven't experienced before
-And so much more
This Program Consists of:
-5 Modules, 5 weeks each in length,
hosted on Zoom.
You'll meet once per week
for each of the 5 week Modules.
March – November
2024
Module 1
Developing Mental Stability
Mar. 10 – April 8
Most people's minds skip around all the time, flitting from one topic to another,
from worry and plans to judgment and some fleeting thoughts of joy. 
Mental stability is the cultivation of the skill of
holding your mind and your mental focus more easily and skillfully
on where you want it to be, when you want it to be there. 
If you tend to ruminate and perseverate on negativity,
there is only one way to reduce this tendency without the use of drugs and/or pharmaceuticals. 
It's to train your mind in greater focus, concentration, and mental stability. 
In this module I'll share with you the
step-by-step mindfulness and meditative practices for doing this
methodically, effectively, and efficiently.
Module 2
Daily Presence
April 28 – June 3
(skipping Memorial day weekend)
Learning how to increase our experience of
daily presence can be the joy and the heartache of mindfulness practice. 
It's the joy because we get to be more engaged and more
a part of our lives and relationships in real time.  
It's the heartache because without the deepest motivations, practices, and
commitment to practice, most people slip right back into habitual mindlessness. 
This module is designed around gentle but effective ways to
use the fact of our own mortality to create the
habits, rituals, reminders, and nuance
necessary for greater daily presence.
 It's about converting the slogan of
"Living life now, to the fullest,
because it ain't gonna last forever"
into your daily mindfulness practice.
Module 3
Current Life Challenges
July 21 – Aug. 19
What's bugging you right now?  What are your problems? 
What are your challenges?  What are your hangups and hiccups?
What are your griefs, fears, and woes?  
And how do we skillfully use mortality to create a more helpful perspective?
In this module we're going to flush the things that
have been plaguing us out of the bushes and learn how to
bring the teachings and practices on death and dying
to our work with them. 
This module goes beyond the slogans of
"Don't Sweat the Small Stuff"
to bring profound context into
how we approach our daily life problems.
Module 4
Illness, Aging, and the Dying Process
Sept. 8 – Oct. 7
We all get sick at times in our lives, and for most of us,
it's just something we want to get through. 
We all age, and for most of us, this causes huge challenge, denial, and fear. 
And we are all going to go through the dying process, and for most of us,
we'd rather just not think about it, and no idea as to how to actually process and prepare. 
In this module we'll learn how to begin to change our relationship with all of the above,
so that each and every facet of Illness, Aging, and the Dying Process
becomes opportunity for spiritual growth, deepening realizations, and peace.

Module 5
Finishing Our Business
Oct. 27 – Nov. 25
Learning how to face death so as to give our lives today greater
richness, depth, meaning, and possibility is the core of this module.  
Special attention will also be given to learning how to more skillfully
process and release anxiety around
our own death, as well as the death of others. 
I know it might sound cliche, but in this module
we will face death together, so that we can begin to truly live.

-Each module consists of:
-Three 1.5 hr. Main Group Teachings on Zoom with Michelle DuVal, MA,
director of The Mindful Center
-Two 1.25 hour Smaller Group Discussions, also on Zoom
-A framework for daily practice, so you always have an evolving focus
-A series of 35 downloadable guided meditations that help you to
deepen your practice with the teachings of the current module
-An e-coursebook to go with each module – 5 e-coursebooks total – filled with insightful readings and practices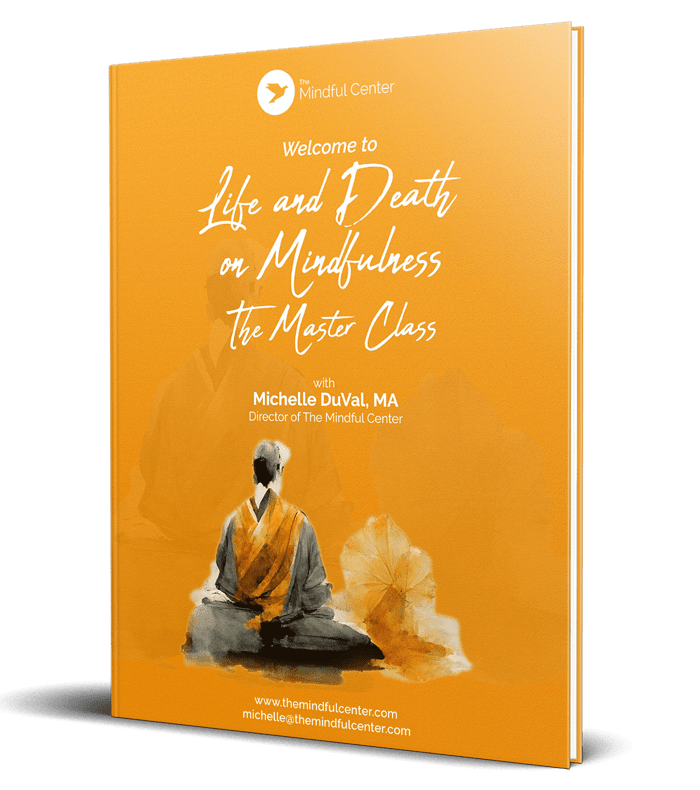 Developing Mental Stability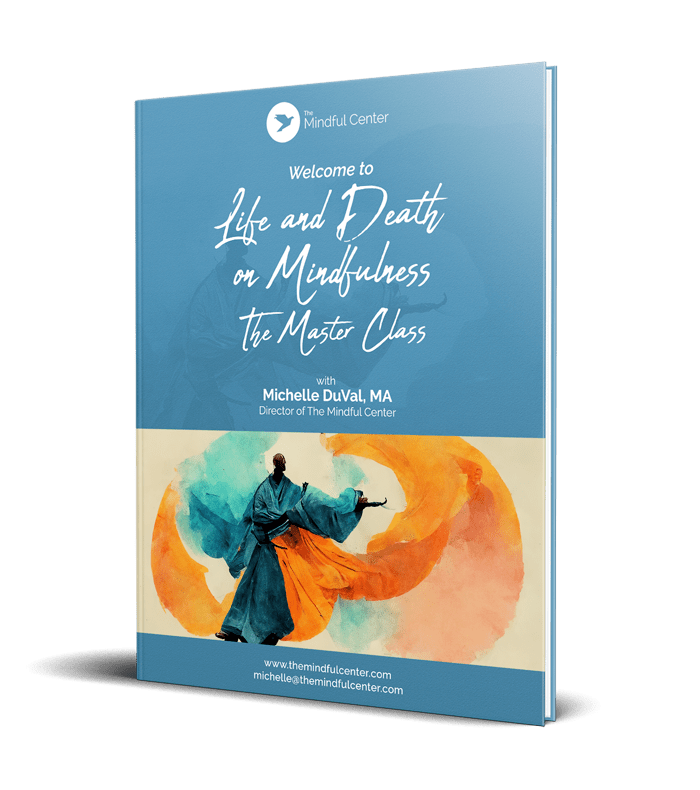 Daily Presense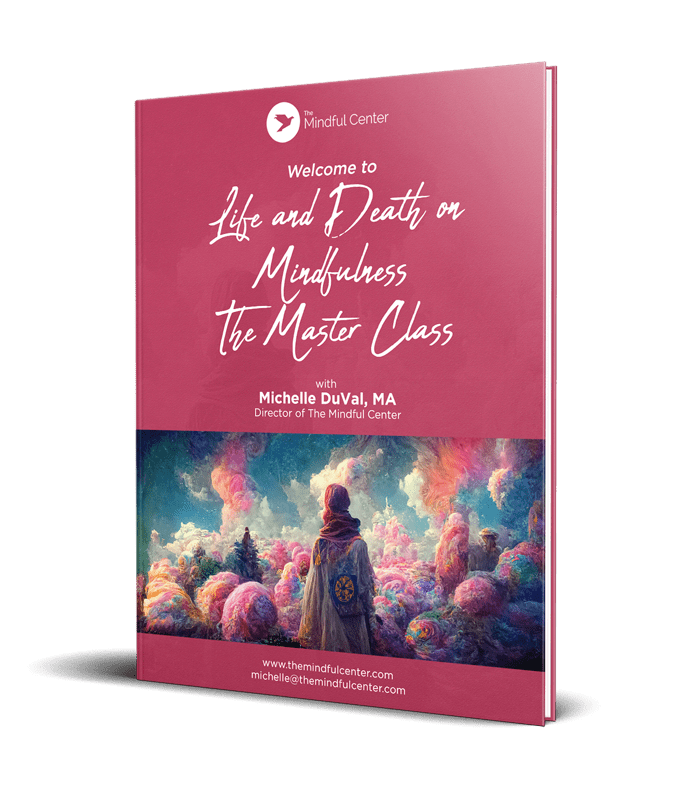 Current Life Challenges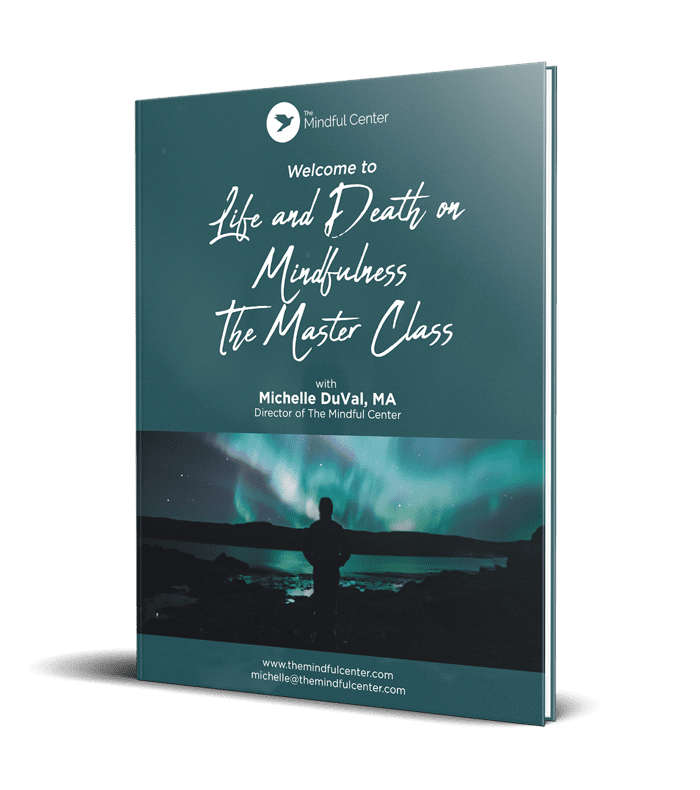 Illness, Aging, and the Dying Process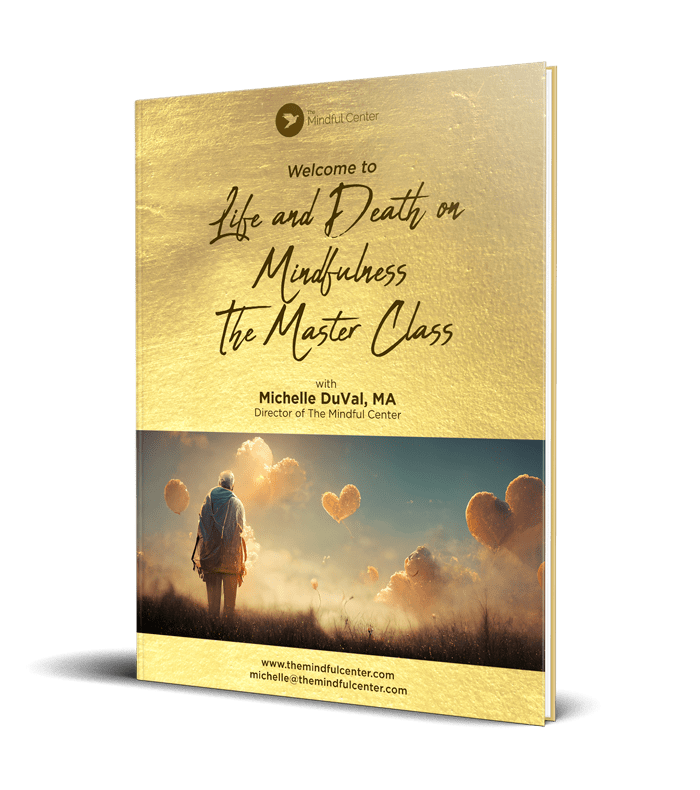 Finishing Our Business
You have the option to
Join the Weekly Sessions
Via Zoom Either On:
Sundays, 7-8:30am MT or
Sundays, 9-10:30am MT or
Mondays, 5-6:30pm MT
whatever best suits your schedule,
and you can float between sessions if your schedule changes.
(See below for the actual dates of classes.)
Life & Death on Mindfulness
Master Class
This program will fill up fast,
and space is limited.
And please note that this program
is hosted on Zoom, with people joining from all over.
So no worries if you're traveling, or out of town for certain sessions.
You can join from wherever you are,
and/ or watch the recordings of any missed sessions..
Questions?
Email Michelle directly at
michelle@themindfulcenter.com

I've taken the Master Class
in Mindfulness
with Michelle in the past. 
Is this the same program?
No.  This is a new Master Class – Life, and Death, on Mindfulness. 
I created this new Master Class because I wanted to incorporate
the practices on illness, aging, death, and dying into an
accessible and comprehensive meditation program that is both
practical and profound.
I'm new to meditation. 
Is this program right for me?
This program is open to everyone, including those
with little meditative experience.  To decide if this program
is right for you, I would encourage you to assess your
desire and general availability to learn and practice
new concepts and meditations.  This program is right for anyone
who wants to deepen and expand both their knowledge
and practice of meditation in a non-religious setting. 
It should be noted that this program doesn't shy away from
some of the biggest aspects of human existence, so you need to be in a place
where you are OK facing some of the challenges presented by our mortality. 
You also need to have some time in your daily life to meditate. 
You don't need to be a monastic for this program. 
Most people in the program will be busy people who also meditate.
So you just need some commitment to daily meditation and a willingness
to set feet on new frontiers that in daily life we rarely tread.
This sounds heavy. 
Is this a heavy program?
If you've never met me, you should know that 'non-heavy' is my middle name. 
I believe that the more you learn about and practice meditation,
the more light-hearted you become.  All of my greatest teachers have been
warm-hearted and funny.  This style resonates with me and probably could be used to describe
how I try to live my life as well as how I try to teach. 
I like to laugh.  I like to have fun.  And I like to go to really big and meaningful places
with others.  I believe that the more we learn how to sit and be with
our own frailties and vulnerabilities, the more light hearted
and capable of open-hearted love and laughter we become. 
Does this mean that every session will be a joke-fest?  No. 
As I've said, we will go big places in this program. 
In fact, we will go to some of the biggest places
I've ever gone with my students. 
We will cry at times. 
Life is precious and beautiful, funny and sad.  
This class will include those elements.
Tell Me More About the Illness, Aging,
Death and Dying Parts
OK.  Those four elements – Illness, Aging, Death, and Dying –
are the four hardest things the human being is asked to face. 
If we understand meditation as a path toward greater peace and happiness,
we need to include the aspects of life that put our peace
and ability to be happy on rocky ground.  For many years now
I've wanted to include these teachings in my programs. 
I now feel like I'm ready.
Can I just attend one class per week?
Yes.  In fact, that is the format.  Every Master Classer
will attend one class per week for
each of the 5 Week Modules, all on Zoom. 
The Mon. – Fri. Live Guided Drop In Meditations, also on Zoom
are strongly encouraged but optional. 
I offer three sessions of the same Main Group Teachings each week,
so that people have some flexibility for their schedules. 
This means that each week of a Module, you will either join the
Sunday 7am MT class,
OR the Sunday 9am MT class,
OR the Monday 5pm MT class. 
When we have the weeks of the Smaller Group Discussions,
you will be assigned a group and time during the
already scheduled Sunday and Monday class times,
based on your availability and preference.
What Are the Actual Dates
of All the Classes?
*Remember that you only attend 1 class session via Zoom per week –
these are the options*
*Every third and final sessions will be the
Smaller Group Discussions, also on Zoom*
Module 1
Sundays, 7am – 8:30am MT
Mar. 10, 17, 24, 31 April 7
Sundays, 9am – 10:30am MT
Mar. 10, 17, 24, 31 April 7
Mondays, 5 – 6:30pm MT
Mar. 11, 18, 25, April 1, 8

Module 2
Sundays, 7am – 8:30am MT
April 28, May 5, 12, 19, June 2
Sundays, 9am – 10:30am MT
April 28, May 5, 12, 19, June 2
Mondays, 5 – 6:30pm MT
April 29, May 6, 13, 20, June 3
Module 3
Sundays, 7am – 8:30am MT
July 21, 28, Aug. 4, 11,  18
Sundays, 9am – 10:30am MT
July 21, 28, Aug. 4, 11,  18
Mondays, 5 – 6:30pm MT
July 22, 29, Aug. 5, 12,  19
Module 4
Sundays, 7am – 8:30am MT
Sept. 8, 15, 22, 29, Oct. 6
Sundays, 9am – 10:30am MT
Sept. 8, 15, 22, 29, Oct. 6
Mondays, 5 – 6:30pm MT
Sept. 9, 16, 23, 30, Oct. 7
Module 5
Sundays, 7am – 8:30am MT
Oct. 27, Nov. 3, 10, 17, 24
Sundays, 9am – 10:30am MT
Oct. 27, Nov. 3, 10, 17, 24
Mondays, 5 – 6:30pm MT
Oct. 28, Nov. 4, 11, 18, 25
Is this class hosted on Zoom?
Will it be recorded?
I don't live in New Mexico,
and/ or I'll be traveling for some of the sessions.
Yes. This program is hosted 100% on Zoom, and all group teachings
will be recorded and stored for you online to access
and watch any missed sessions at your convenience.  
This program will fill up fast,
and space is limited.

Questions?
Email Michelle directly at michelle@themindfulcenter.com
Additional Online Programs​


A one-of-a-kind program that runs eight weeks and teaches participants an entirely new approach to weight loss, healthy eating, and stress reduction. Participants learn the clinically proven techniques of mindfulness and how to hone and direct their skills toward eating and weight issues.
Details »

In this 3 Part Program learn the most essential elements of mindfulness practice delivered in a way you've never heard before. This Starter Kit is great for those just starting out in their practice or who want a simple and to the point refresher in mindfulness.
Details »
In this 8 part course participants progress through a uniquely comprehensive study and practice of mindfulness meditation: what it is, how to do it in our daily lives to reduce stress, manage pain, help with sleep issues, weight issues, healing processes, and more, and how it enables our ability to participate in our own health and well being.
Details »